Wednesday, May 12th 2010
---
Not always, but in some cases where there are tv/movie cars, jumps are sure to follow. The Dukes of Hazzard show is no exception. We've decided to include a new segment on our blog about famous car jumps in tv and movies. We've entitled this feature "Famous Jumps." What better way to kick off this new series than the Dukes of Hazzard! Our first jump pays tribute to the famous flight of the General Lee, LEE 1. You may remember our "First Look" post on the General Lee, LEE 1. One of the first General Lees used in the production of the show.
This jump was made on November 11, 1978 on the college campus of Oxford College (now part of Emory University) in the town of Covington, GA. The building in the background this Seney Hall. If you look closely at the General Lee you can distinctly tell it's the LEE 1 by the chrome rocker panels. This is the only General Lee to have the chrome rockers. The same jump was part of the first episode and also part the show's opening credits.
Final Thoughts
The same jump was also repeated on the original site for the 2005 production of the Dukes of Hazzard movie. Near the end of the first clip you can see how that jump went. Could you imagine going to school there and getting to see it take place all over again? I would have skipped classes that day to see it! It's amazing how Hollywood does these jumps. It takes a team of skilled stunt people and engineers to pull this stuff off. But to you and I, it's looks like a bunch of rednecks just taking chances. Gotta love jumps! Be sure to jump in here another time for On Screen Cars!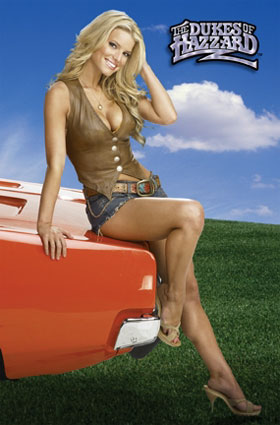 ---
Categories: 1969 Dodge Charger, Dukes of Hazzard, Famous Jumps