Sunday, January 24th 2010
---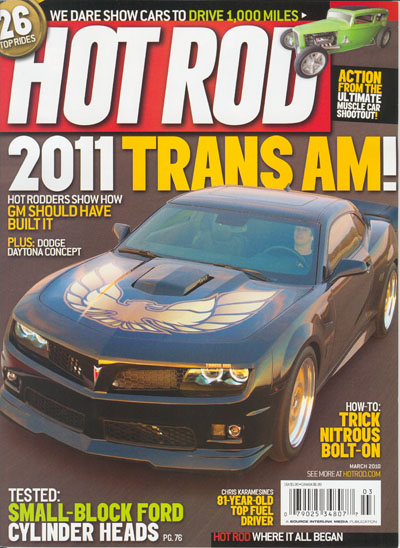 The March 2010 cover of Hot Rod Magazine features an exciting concept vehicle inspired by the movie Smokey and the Bandit. It's creator Kevin Morgan came up with the concept nearly as soon as the 5th Generation Camaro concept was introduced. He started out drawing up some Trans Am concepts based off the Camaro. He presented and sold prints at car shows and they became an instant success. His first big break came when he displayed and sold the prints at the 2007 Bandit Run event.
At the Bandit Run event, Kevin caught the attention of legendary car designer Chip Foose. He also got an interview with the producers from the DIY Network (Do It Yourself Network). DIY did a special about the Burt Reynolds, Year One Smokey and the Bandit Trans Am. Kevin got to be part of the show! Later at the Bandit Run, he made contacts with the editors of Hot Rod Magazine at the Bandit Run dinner. He describes the experience that day, like being on "Cloud Nine". This event followed by a chain of other events later, lead to the production of the Kevin Morgan Concept Trans Am.
Concept Car
In 2009 the first car was built out of collaboration between Kevin Morgan Designs and Otto Body. The car is referred as the "Phoenix." The Phoenix was on display by the group at the 2009 SEMA show in Las Vegas, NV. An official announcement has been made by Trans Am Depot and Otto Body that cars will be available for sale. However no word has been said about an official conversion kit. But the parts included in the covered product are listed on their website. I would imagine there is a lengthy waiting list for these cars.
Features [from Otto Body's Website] Exterior
1' - 1.5' Lowering Kit w/sway bar handling upgrade
Wheels & Tires
Front: 20x9.5x120 CB-66.9 Gold or Silver Machined Face Snowflake Wheels. PIRELLI PZERO 275/45ZR20
Rear: 20x11.5x120 CB-66.9 Gold or Silver Machined Face Snowflake Wheels. PIRELLI PZERO 305/35ZR20
Hood
Shaker Scoop
Fender Extractors
Exhaust Conversion w/ splitter tips
Rear Fascia Clip w/tail lamp lenses and bulbs
Rear Spoiler
TA Graphic Package
Interior
Embroidered Head Rest and Console Lid - KM Graphic Punch
Turned Aluminum Door Panel
Turned Aluminum Dash Inserts
Turned Aluminum Instrument Cluster
Door Panel Badges
T/A SN Badge and Designation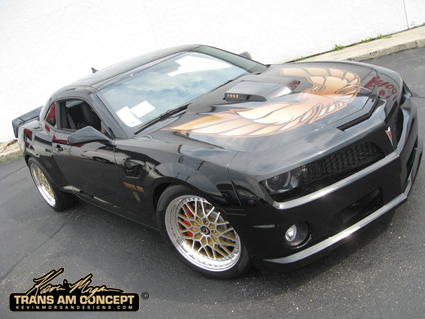 Check out our Store for some great Smokey and the Bandit stuff!
Final Thoughts
What does this mean for Smokey and the Bandit fans? Well there may not be another Smokey and the Bandit movie coming out. But here's an opportunity to own a cool retro version of the movie car. Using the modern F-Body platform, the Kevin Morgan Trans Am Concept gives owners a blend of modern automotive technology with classic Trans Am styling. It will also excite a new generation of Smokey and the Bandit fans. Who knows it might even persuade GM to bring back the Trans Am. I wouldn't mind seeing a "Chevrolet Phoenix." What ever happens, let it be known it all started with our friend Kevin Morgan! Here's to you Kevin, from all of us at OnScreenCars.com! Till next time, "keep the pedal to the metal." We're working on the next On Screen Cars post! 10-4 Good Buddy!
Reference: IMDB, Hot Rod Magazine, Kevin Morgan Designs, Otto Body, Trans Am Depot
---
Categories: Smokey and the Bandit
Tags: camaro, chevrolet, concept, kevin-morgan, pontiac, trans-am