Friday, July 15th 2011
---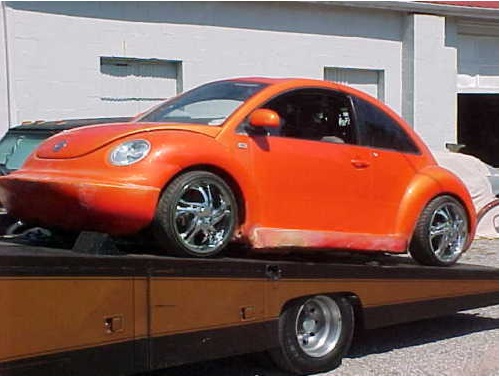 Gotta monster of a eBay Find for you readers this week. The Monster Garage Volkswagen Beetle Swamp Buggy has been spotted! An Ebay seller from Thurman, OH has listed this one of a kind ride recently at a price of 10K or BO. Nice a bad deal, especially if your looking to wow the folks at your local car show or cruse in. If you remember it does travel on land and water (kinda, sorta). For those who may not be familiar with this ride. Let me fill you in.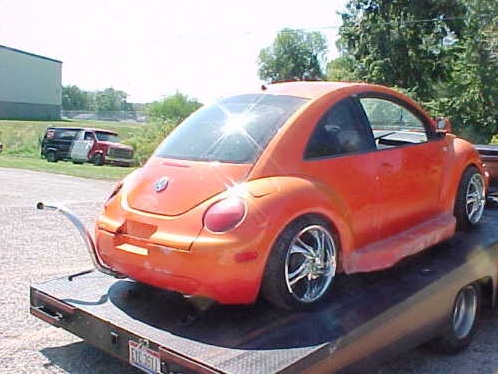 On the show's third episode, Jesse and the team put together vehicle capable of driving on land and floating on water much like a bayou swamp boat. They started with a 1999 VW Beetle for the base. They were given just a week and a small budget of just $3000 (not including the cost of the car). They hacked up the rear deck hatch and squeezed in a fan boat motor on tracks. Body modifications were made to help create a shell/hull. The empty hull was filled with foam to help make the car float. A long tall pipe was added to direct the exhaust up and out of the water. The team was successful in making a functional vehicle to meet the challenge while keep it relativity stock looking.
According to the eBay auction the car has been in storage for quite sometime. After the first season aired, the car along with other vehicles from the show went on tour. It eventually wound up in the Peterson Museum for sometime before being returned to the set. After the show was canceled the car was stored in warehouse in Burbank, CA. At some point most of the Monster Garage cars were sold at Barrett Jackson Auto Auction. However this lucky bug didn't go up on the auction block. Later the car was sold to the current owner and housed in Ohio out of public view. Which brings us to where we are today.
Now it can be yours! Head over to the auction and place your offer or buy it now. Be ready to pick it up locally. If you do. Please let us know! We'd love to feature your new OnScreenCar! See ya next time folks!
---
Categories: eBay Finds, Monster Garage