Monday, March 29th 2010
---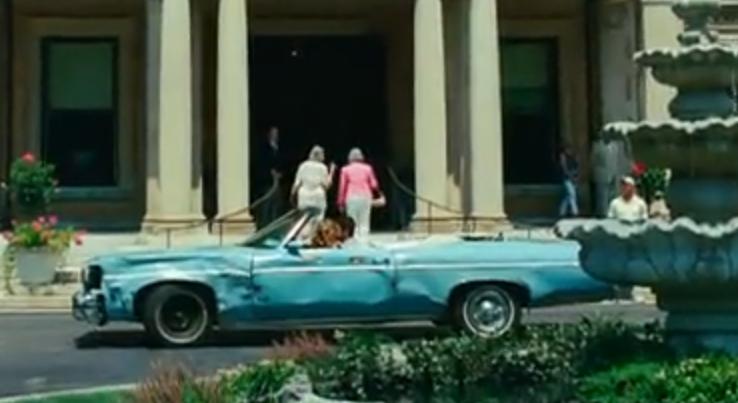 Life as a bounty hunter is no easy job. You're either running from thugs or you're running after thugs. You've gotta have the right equipment, skills and people. Oh yea. Not to mention a nice set of dependable wheels. After recently seeing the "Bounty Hunter" We knew that OnScreenCars.com had to feature the sweet and rare 1975 Oldsmobile Delta 88 Royale convertible driven by actor Gerald Butler. Oh yea, not to mention his attractive co-star Jennifer Aniston riding shotgun throughout most of the film.
The Film
For those who have not seen the film. Let me give you a short run down about what it's about. I'll try my best not to ruin it for ya. Basically Butler plays a Bounty Hunter named Milo Boyd. Aniston plays his ex-wife, Nicole Hurley who is a hot shot news reporter. Milo is given a rare opportunity to seek revenge on Nicole, by bringing her in on a bond. Much to Milo's surprise the task is not as easy as he thought it would be. The whole mounting story involves lots of bad guys, dirty cops, etc all taking place in Atlantic City, NJ. Moving on, let's talk about the car. After all that's what we're here for right?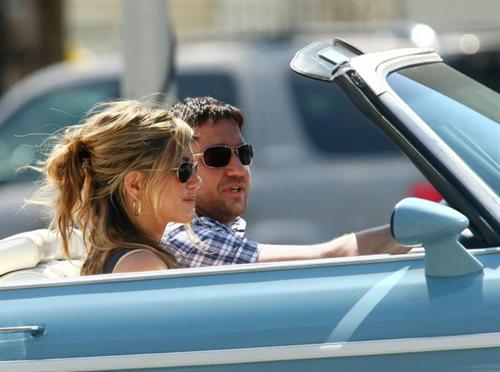 The Car
Like I said before. The car is a 1975 Oldsmobile Delta 88 Royale convertible. What makes it rare are the lower production numbers for this model. From the research over at 1975oldsmobileconvertible.com, a little over 7,000 Royale convertibles were made. This car was part of the 8th generation Delta 88 body style, which ran from 1971 - 1976. The Oldsmobile Delta 88 Royale came with three engine options 350 V8, 455 'Rocket' V8 and the 400 V8 with 2 barrel carburetor. 1975 was the last year the convertible option was available for the Oldsmobile Delta 88. It was said then, that it would be the last Oldsmobile convertible ever. However in the early '90s that statement was ratified by the re-introduction of the Oldsmobile Cutlass Supreme Convertible.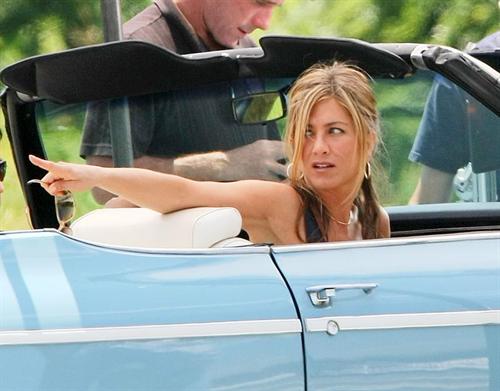 The movie car for the most part is a bone stock 1975 Oldsmobile Delta 88 Royale. The exterior color is Horizon Blue with a white accent strip. The interior is a white vinyl with a white convertible top. The production numbers for 350 V8 Delta 88s were much higher than other engine displacement options. More than likely the motor in this car is a 350 V8.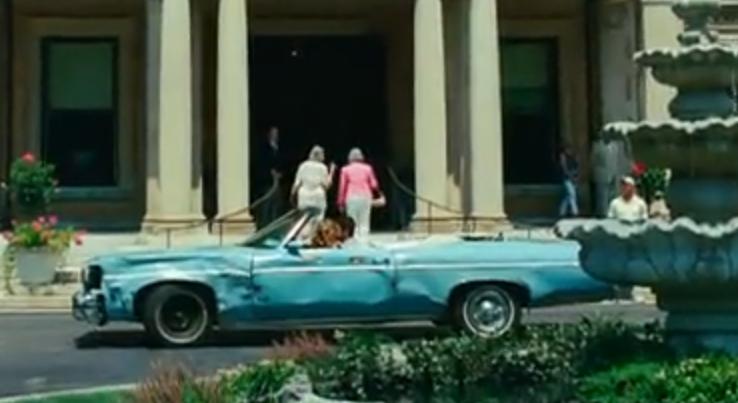 Final Thoughts
Not to ruin the movie for ya. But as with most hollywood cars, this one gets semi-trashed. There is major damage to the drivers front fender and door. I did see a scene where the drivers front hub cap falls off, only to reappear moments later and disappear again later. Gotta love how hub caps do that in films. The car was a perfect match for the character and the scenery. It fits very well with the Atlantic City backdrop. Some people mistake these cars for Cadillacs. Personally if I owned one of these fine automobiles, I would take that as an insult! Well till next time, stay out of trouble and come back for some more On Screen Cars!
References: 1975oldsmobileconvertible.com, Wikipedia, IMDB
---
Categories: 1975 Oldsmobile Delta 88, Gerald Butler, Jennifer Aniston, The Bounty Hunter
Tags: 1975, car, convertible, oldsmobile