Thursday, September 13th 2012
---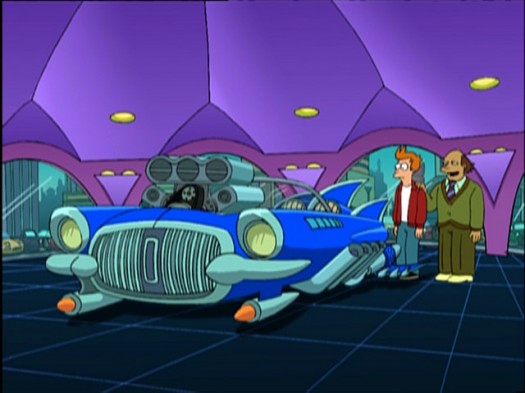 Say it with me "ThunderCougarFalconBird." Now say it again 10 times fast. Addicting huh? Well I have to say it's a memorable piece of Futurama fiction. Apparently the future's version of manliness is a mash of classic car names and parts rolled up in a big fancy hover car. Episode S2E10 entitled "Put Your Head On My Shoulder" introduces us to the car. In the beginning of this episode Amy decides she needs to go car shopping. They go to see Malfunctioning Eddie and his Rocket Car Emporium. Where Fry is nearly swayed by the salesperson to buy the car.
Nothing makes you feel more like a man than a Thunder Cougar Falcon Bird
Nice pitch isn't it? The car reminds me much of Simpson's: The Homer in it's terms of oddness. It does pay great tribute to the old big fin cars of the 1950's. You can see the artist had the 50's Ford Thunderbird in mind. The grill is kinda a mix of a Ford Cougar and Ford Falcon. Hints the name ThunderCougarFalconBird. Check out that super-charged V8 poking up from the hood. Rarrr! I like the rest of Fry and Salesperson's conversation.
Fry: "Sorry, I'm not here to buy." Sales Person: "I understand and it's wonderful that you don't care whether anyone questions your sexual orientation." Fry: "I care! I care plenty! I just dunno how to make them stop!" Sales Person: "One word: Thundercougarfalconbird."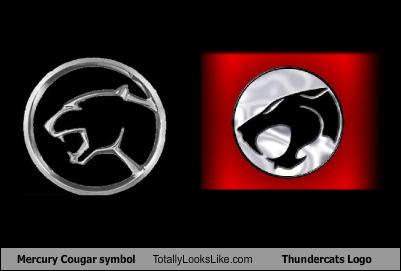 I think this car would have an interesting emblem to it as well. Take a 80's Mercury Cougar emblem (I still think it reminds me of a ThunderCats logo). Throw some wings on the cougar, thunderbolts and there ya go an emblem for the ThunderCougarFalconbird! Last but not least check out this Flickr post on a LEGO version of the ThunderCougarFalconBird. Nice job LEGO Ambassador Matt De Lanoy! aka Pepa Quin on Flickr. Well that's all I have for now on the topic of the ThunderCougarFalconBird. Let's hear what you have to say! Post in the comments. See ya next time!
---
Categories: Futurama