Wednesday, November 28th 2012
---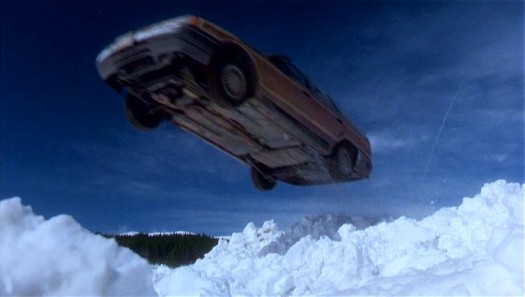 I think everyone can agree that National Lampoon's Christmas Vacation is a Christmas Classic. I know my brother and I watch it every year. My office co-workers and I are constantly referencing the movie during the holidays. But one scene in the movie I think that is often over-looked is the car chase and big jump during the beginning of the movie. It could be that we're too busy getting settled in with our drinks and snacks to take note. But not this year! We want to commemorate the big jump scene as an OnScreenCars.com "Famous Jump." With that let's explore the scene.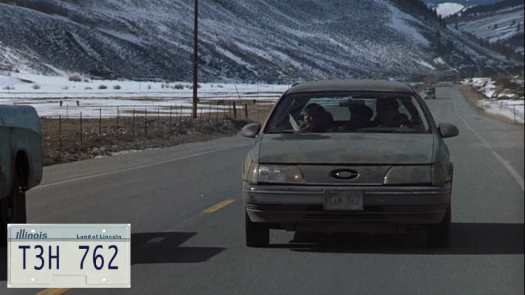 The Scene
The opening scene is set in rural Illinois. The Griswolds are on their way to find that perfect Christmas Tree. However according to the filming locations reference on IMDB. The scene was shot in Summit County Colorado near Breckenridge. I have to say. It does makes sense. I don't recall rocky mountains in rural Illinois. In the picture above you can see the rockies in the background. That's the magic of Hollywood isn't it? Now for a little background on the car.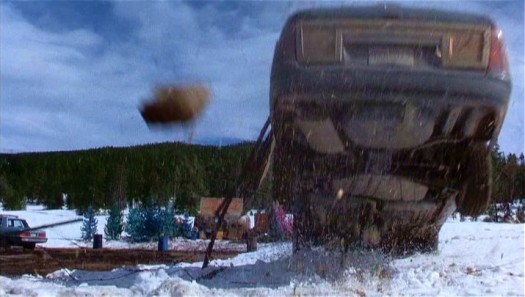 The Car
The family car in this film unlike it's predecessor is not a custom creation of George Barris. The simulated woodgrain on the side of the body was more than likely was added on. The Ford Taurus Wagon either did not come with this feature or it was extremely limited in production. However it did come on the Ford Country Squire Wagon being sold at the same time. I have a belief that the producers had the woodgrain on the car to pay tribute to the orignal Wagon Queen Family Truckster. I like to think of it as an updated Family Truckster.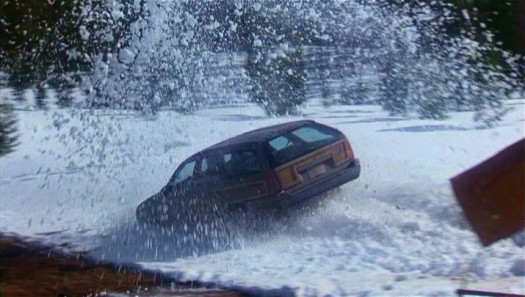 The Jump
According to the commentary Dick Ziker was a stunt coordinator and stunt-driver that drove the car under the truck. He also did the jump. From the commentary it sounds like the jump was challenge because the car was front-wheel drive. You have to remember the 80's were the beginning of mass-production of front-wheel drive cars. A front-wheel drive is heavier in the front and less balanced as a real wheel drive car. They director said the car kept wanting to nose dive as the car came down from the jump. I'm glad they brought it up and that the jump was in fact real. No special effects. So there we have it. Another Famous Jump! Besure to check out our great links to Amazon Christmas Vacation goodies! Happy Holidays Folks!
---
Categories: Famous Jumps, National Lampoon's