Friday, February 12th 2010
---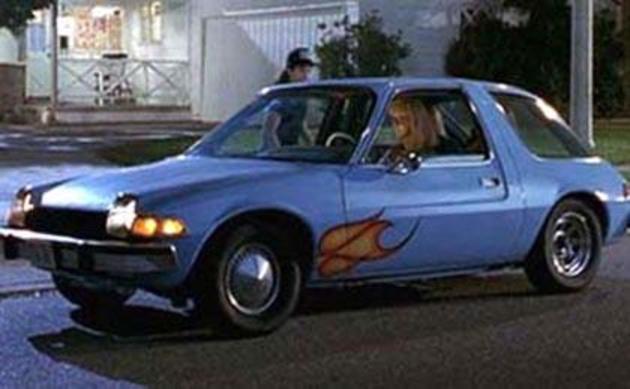 Ahh the Mirth Mobile! The sky-blue 1976 AMC Pacer that belonged to Wayne and Garth in the movie Wayne's World. The movie that gave us hours of pop cultural phrases and references that would last through most of the late '80s and early '90s. Not! (just kid'n). The movie that taught us that being weird isn't a bad thing and that it doesn't matter what kinda car you drive. It just matters that you live to party! So party on guys, as we talk about the Mirth Mobile.
All About the Pacers
What was special about the Pacer? The Pacer is a Point A to Point B, basic transportation type car. AMC produced Pacers between 1975 and 1980. The no thrills base model only had about 90 horsepower. There was a V8 option for the Pacer, however due to the fuel crisis they were not in much demand. Let's face it the Pacer was built for fuel economy. Obviously the Pacer didn't make it long, due to its styling (bubble like), lack of power and low room for cargo or passengers.
Wayne's World AMC Pacer
What's special about Wayne and Garth's AMC Pacer? Well how many Pacers have you seen with a red licorice dispenser? In the first movie it shows Garth pulling a piece of string red licorice from a dispenser mounted on the head liner. Need a drink? No problem! Their Pacer had a full bar tap installed on the dash above the glove box. Need to jam down? At first the guys just had a in dash AM/FM Cassette Deck. But later in the movie they got their big break and Wayne splurged for a portable CD player with a cassette adapter. On the outside their Pacer wasn't just a regular run of the mill pacer either. It had mis-match wheels and tires. Not to mention a sweet little flame decal! Party On!
Final Thoughts
Next to Daisy Duke's 1980 AMC Golden Eagle Jeep CJ-7, the Mirth Mobile may be the most famous AMC featured in film or tv. If nothing else it wins the award for most famous AMC Pacer ever in film or tv! Being a child of the '80s and '90s, I don't know how many times I've watched Wayne's World. Not to mention how many times I sang the Wayne's World theme song. But I can tell ya that the Mirth Mobile wasn't high on my list of vehicles to own. Till next time, keep fighting for the right to party!
Reference: Wikipedia (Pacers), IMDB (Wayne's World), Pacer Specs, AMCPacer.com
---
Categories: 1976 AMC Pacer, Mike Myers, Wayne's World