Monday, March 1st 2010
---
Above is another interesting vehicle from the movie hit, Percy Jackson and the Olympians: Lightning Thief. Not sure of the year at the moment. But it is a Maserati 4200 GT. This car may be one of the most expensive cars seen on this site yet. The base price of a Maserati 4200 GT is around $110,000 US Dollars. But why use a Maserati for this movie?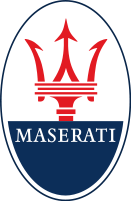 Well some believe it maybe due to the fact the Maserati emblem is a Trident. The Trident is a three pronged spear once used in fishing and as a weapon in combat. The Trident is also the symbol for the Greek God Poseidon, God of the Sea. According to the story of Percy Jackson, Percy is the son of Poseidon. Now that makes a little more sense. Otherwise any other available vehicle would have been fine. But why not do it with style?
Spoiler Alert Below!
The car is first spotted in the The Lotus Casino scene. The car is on display for patrons to enjoy. Percy Jackson and friends later use the car to escape the evil around them and continue on their quest. They jump into the car and run it through the casino and out the front glass doors. The crash through the glass reminded me of the first scene of Gone in 60 Seconds (2000) where Kip Raines steals the Porsche. You can see the video below.
Final Thoughts
It's a very interesting and exotic car. I like the styling. However it's not a car you would send your kids out in. But it makes for an interesting story in the movie. The Greek mythology tie in with the Maserati emblem is well thought out! Very Clever! Don't forget to check out our previous entry on Percy Jackson. It's about the 1966 Ford F-100 used in other parts of the film. Tell next time, keep your seas calm while we work on the next On Screen Cars post!
Reference: Maserati, Flickr (set photos), YouTube (escape scene), Wikipedia (Trident Symbol)
---
Categories: Percy Jackson
Tags: black, luxury, sports-car