Thursday, April 8th 2010
---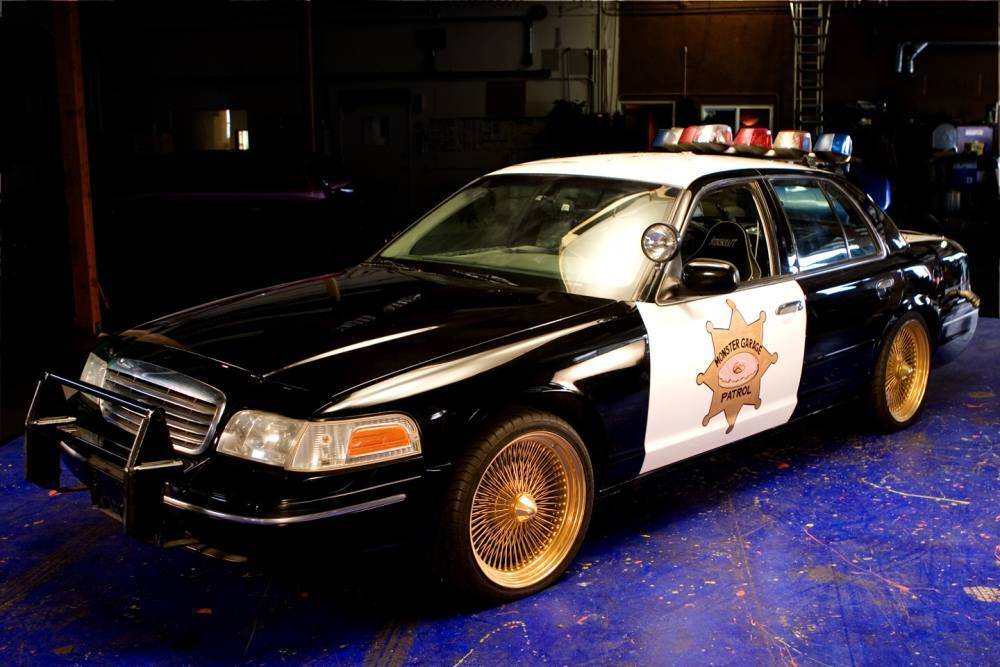 What can pull people over, drive over a 100 miles per hour and make doughnuts all at the same time? The Monster Garage Cop Car Doughnut Shop. If you were a fan a of Monster Garage as I was, you would remember this car from Season Two - Episode 2. In this episode a group of cops are assembled to design, build and construct a mobile doughnut shop out of a 1998 Ford Crown Vic. As with other projects on Monster Garage, this vehicle must appear some what stock while performing the tasks requested by host Jesse James.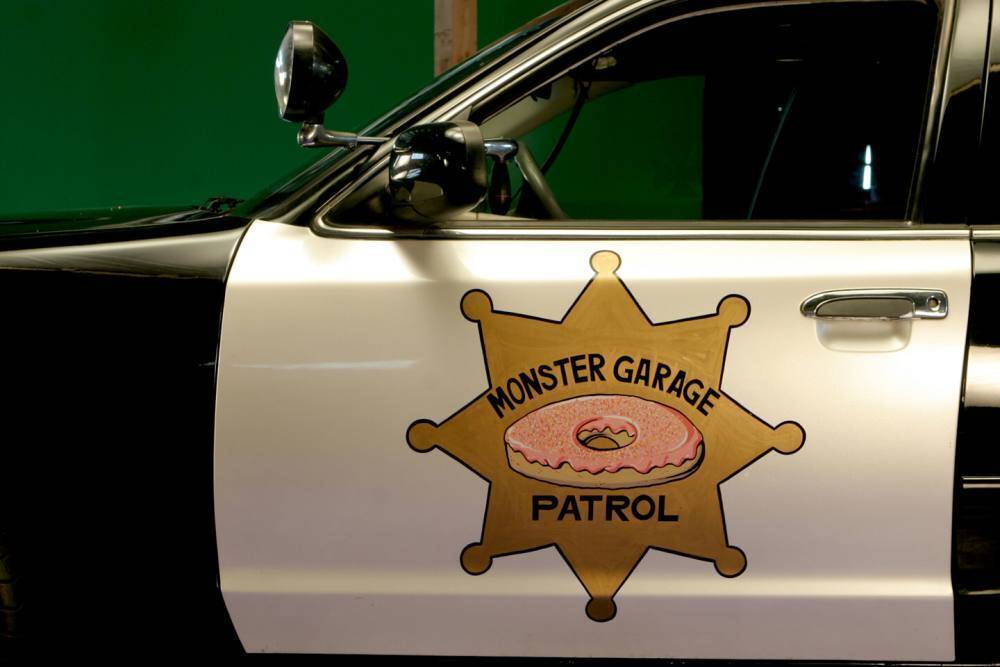 Exterior/Structural Mods
As you can see from these photos, they pulled it off. The body paint scheme is done in the traditional black and white fashion. There is a regular light bar on top. The car retained the spot light on the drivers side seen on most police vehicles. However the badge on the door isn't quite so normal. It's a star badge with a doughnut in the center. Mmm.. Doughnuts. Yes, I'm thinking the doughnut reminds me of the doughnuts Homer Simpson likes. Personally I like the ones with pink icing and sprinkles too. Don't ya think the doughnut badge might be a little ironic for a cop car? Oh well. The car rides on 45/35/20 Toyo tires mounted on 20 inch gold Enzo spinning wire wheels. Between the wheels and doughnut logo one might think this isn't your typical cop car.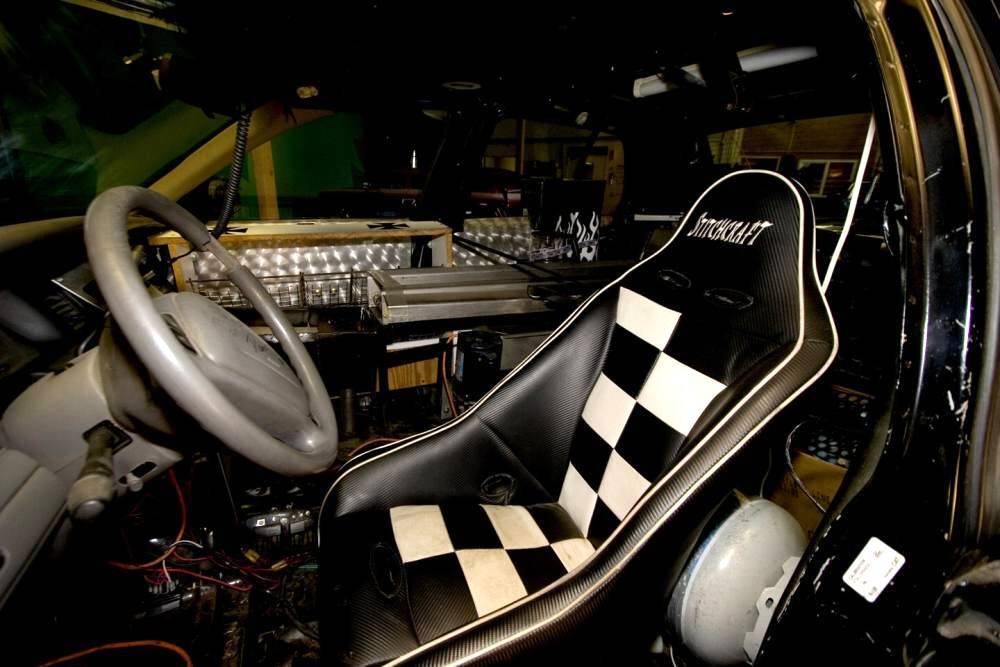 Interior Mods
Because it isn't, this cop car has all the workings of a mobile doughnut shop. The passenger and rear seats were removed to make room for the additional gear. Those components include a coffee maker, a fully functional doughnut machine and doughnut display case. The doughnut making mechanisms are all part of a real Belshaw Brothers doughnut machine and robot. The drivers side got a little bit of love as well. The driver seat was replaced with a custom Stitchcraft Interiors race seat. A full control panel overlay was constructed over the console part of the dash. You know for things like radio control toggle, siren/lights control toggle and yeah doughnut toggle.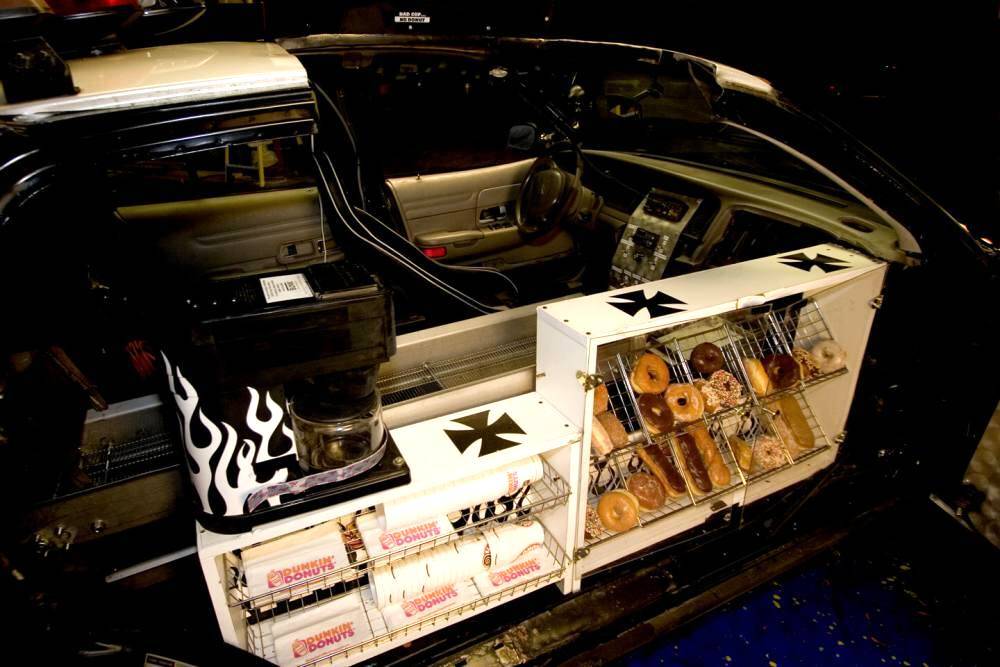 Final Thoughts
This is one of our favorite projects on Monster Garage. I couldn't imagine someone getting pulled over by this vehicle would last without at least a chuckle. It's funny and humor-full for sure. Don't forget to take the time to thank your local officers for all their hard work. Monster Garage thanked these lucky officers with a boat load of free tools! Oh if you're wondering where this lucky car ended up, it was auctioned off at 2008 Scottsdale Barrett-Jackson auto auction. It has since been on exposition at doughnut conventions! What a life for this cruiser. Catch ya next time here at On Screen Cars. Where you never know what we're coming out with next!
Reference: Barrett-Jackson.com IMDB
---
Categories: 1998 Ford Crown Victoria, Monster Garage