Saturday, June 26th 2010
---
Not always, but usually where there is a car chase, there is a car jump. The Gone in Sixty Seconds bridge jump is no exception. The film comes to a climax as Memphis Rains nears his delivery deadline. After being chased through town by Castlebeck and the LAPD, Memphis is confronted with what looks like a dead end. A car crash on the Vincent Thomas Bridge.
Memphis stops for a second to look for a way out. Memphis will do anything to save his baby brother. Ahead he spots a roll-back tow vehicle with the bed down. Perfect! A jump ramp. He jumps back into Eleanor to back up and prepare for jump. Castle Beck pulls up from behind thinking he's got his mouse. Memphis floors the GT 500 and bangs through the gears. The camera shows several angles, including a speedo shot approaching 100 mph. Memphis flys through the air and clears the crash scene while scraping the top of an ambulance. Memphis lands with a swerve or two. But he quickly gains control. How did they do it?
The Magic
If I were Castlebeck, I would have given up at this point. Memphis seems to be nearly unstoppable. The jump is amazing. Granted there's a quite bit of movie magic going on. The whole jump staged in three pieces. But it's still some what believable (at heart). At least three Eleanors were used for this jump alone. Not to mention a Computer Generated Graphics (CGI) version as well. Two cars were completely destroyed. One was loss in the initial part of the jump on the ramp. The second was lost on a long jump during the landing. A third car was suspended by wires for the in-flight shots. The CGI car filled in the gaps. All of the stunts performed in the film were coordinated by Johnny Martin . Johnny also did stunt work in films Live Free Die Hard, The Italian Job, and The Matrix Reloaded.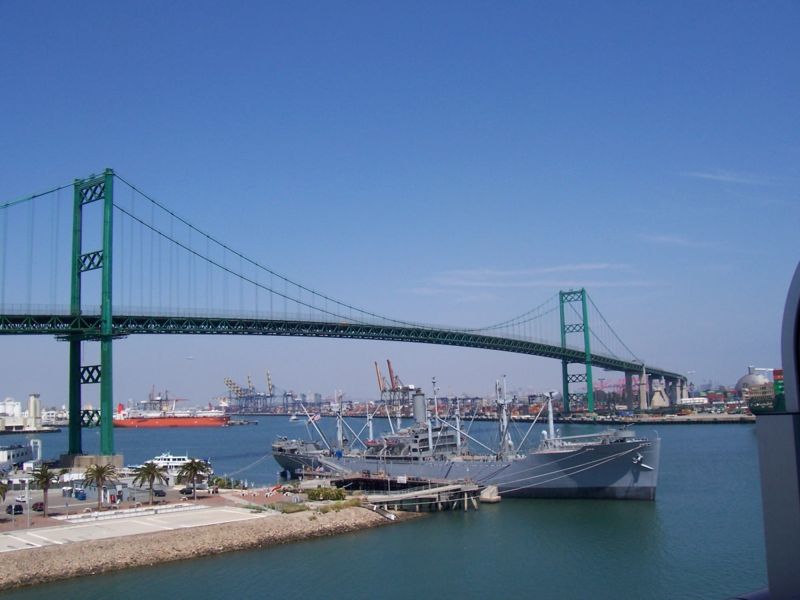 Vincent Thomas Bridge - Scene Site
Final Thoughts
Even though the jump is some what fake. I totally enjoyed it. I think it deserves mention in our Famous Jumps section. It will live on in the hearts of movie car fans every where. Even if it's cheesy. I did find a great remake someone did in Grand Theif Auto IV on YouTube. Take a look at the clip below. Muztang2 did a great job of putting this together. By the way. A piece of trivia for ya. The Vincent Thomas Bridge was also used in the filming of the original Gone in Sixty Seconds. Your job is to find where and when in the film. Comment to us your best answer. Till next time. Keep your Mustangs on the ground! See ya next time at OnScreenCars.com
---
Categories: 1967 Ford Mustang, Famous Jumps, Gone In Sixty Seconds (2000), Video Games