Wednesday, March 28th 2012
---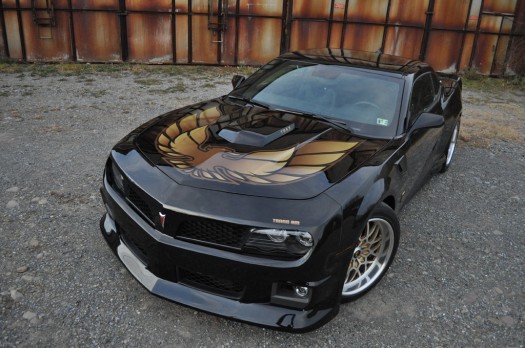 Just received word from car designer Kevin Morgan that his personal 2010 Chevrolet Camaro Custom Trans Am (#0008) is now up on eBay! If you're not up to speed on Kevin's designs please refer to our previous post about them. They are out of this world! Kevin had the vision of bringing back the Smokey and the Bandit Trans Am we know and all love. But as you may know Pontiac has been shutdown. But who says you can't make a Trans Am out of a Camaro? Trans Am Depot has been doing these Kevin Morgan conversions for quite sometime. You can either buy a late model Camaro and get in line or get this car today. Check out the details below.
Standard Trans Am Conversion (Base Pkg.)
Eibach Pro-Kit #38144.140 - 1" Lowering Springs
Eibach Anti-Roll Kit #38144.320 - Anti-Roll Sway Bars
KM Forged T6 - 6061 Machined Faced Snowflake Wheels 20"x10" Front
KM Forged T6 - 6061 Machined Faced Snowflake Wheels 20"x11" Rear
Perelli Pzero 275/40/ZR20 - Front Tires Front
Perelli Pzero 315/35/ZR20 - Rear Tires Rear
New RTM-OEM Style Trans Am Hood
Functional Air Intake Shaker Scoop
Integrated, Hand Molded Fender Air Extractors
Restyled Bumper Cover Fascia Front
Restyled Bumper Cover Fascia Rear
Rear Spoiler
Side Ground Effects Pkg.
Rerouted Exhaust w/Side Exit Splitter Tips
Xenon HID Head Lamps
LED Custom Turn Signal
Custom TA Graphics Pkg.
Custom KM TA Numbered Edition Badge Pkg.
Custom Sill Plates
Embroidered Head Rest
Custom "Turned Aluminum" Dash and Door Panel Inserts
Own a piece of history! Those of you who recognize the origin of the iconic snowflake wheel, shaker scoop and TA 6.6 insignia, no doubt remember what started it all.. Smokey and the Bandit. Who knew in 1977, the year the movie Smoky and the Bandit released, that a five year old boy entering the first grade in Canton, PA would one day provide the inspiration to keep the Trans Am namesake alive. Now, 35yr. later, the once first grader is chief designer for Trans Am Depot, makers of the exclusively licensed 2012 Trans Am. The team of Morgan and the Depot have also released a 2012 GTO, 69 style Trans Am, '70 442 and many other of the hottest retro muscle cars to prowl the American streets in recent memory. These and other Morgan designs have been featured on Discovery Channels American Choppers, Hot Rod, High Performance Pontiac, Pontiac Enthusiasts and more.

Now, you can own one of designer, Kevin Morgans 2010 Trans Ams from his personal collection. Morgan is releasing car #8 to the public. This is only the second time that a new styled and licensed Trans Am has made it to the secondary market. The first one sold in excess of $115k. There is currently a two month waiting list just to get on the schedule to have one of these cars built. Spring is muscle car weather and you dont want to miss this years opportunity to show and shine. As the saying goes. Enjoy life, you only live once.
---
Categories: eBay Finds, Kevin Morgan, Smokey and the Bandit