Tuesday, September 18th 2012
---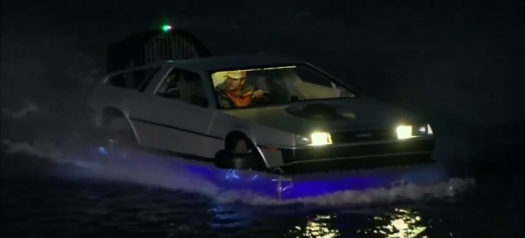 You mean to tell me you built a Delorean, out of a hovercraft? I think those would be Marty McFly's words if he saw Matthew Riese's creation. Matt decided that flying cars won't be showing up anytime soon. So he took the plans for a popular hovercraft design and went a step further. The end result is a Delorean Hovercraft that carries two people on water (for now). A product of science fiction crashing into cold reality. By the way I think no actual Deloreans were destroyed during this production (in-case you were feeling a little uneasy).
According to Matt's Kickstarter project page the madness all started two years ago. He built a quick prototype then decided to move forward with the real deal. He would like to be able to use his creation on any surface. When completed it will be able to travel 45 miles an hour. Sorry no plans for a Flux Capacitor since the required speed cannot be meet. Looks like he met his goal of 5k for the project. For a $250 donation you would not only get a 30 minute ride, but a chance to drive!
The video above shows Matt in the water at McCovey Cove just outside baseball game at AT&T Park. Note the appropriate Marty McFly apparel (multicolor hat, jeans, etc). Not to mention that life preserver is required. It's a registered boat! I believe the video was recorded during a live game on TV. Note the game scores. That's all for now. Remember the future is what you make it. So make it a good one!
January 2021 Update
Matt did in fact get enough money from the Kickstarter to finish the project. A full scale working hovercraft can be seen in the clip below. The craft was later auctioned off in November of 2019 with a winning bid of $44,088. Just goes to show, dreams do come true.
---
Categories: Back to the Future