Friday, July 29th 2011
---
Having trouble finding a movie to watch? How about a classic car movie? How about a classic car movie you can watch for free? Well that's the idea behind OnScreenCars.com's Free Ticket category. A group of posts about legal public domain classic car movies found on the net. Thanks to several online providers we can enjoy many classic car films for free. We're gonna start off this new segment with a classic car film called The Choppers.
"...it's the Choppers alright...they're getting as regular as a tv show..."
The Choppers released in 1961 tells the story of a teenage gang terrorizing a small town with rash car jacking. The crew lead by a guy name Cruiser, whom steals and strips down any car they can get their hands on. A crooked local junkyard owner is always standing by to buy whatever the boys dish up. However local authorities looking out for the gang as they plot to trap them. Watch as it all unfolds in this high action B movie thriller of it's day. The movie is roughly an hour long in black and white and features many cool cars of the day. Not to mention. . .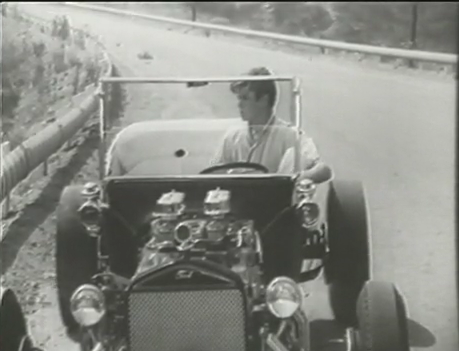 One car that really stands out is a modified Ford Model T, also commonly known as a "T-Bucket." This T-Bucket is powered by a Buick Nailhead 322 V8 bored to a 402 with long tube headers going to side pipes. The whole unit is topped off an array of 6 Stromberg 97s carburetors. What makes this car even more special is the car in real life it belong to Tommy Ivo aka TV Tommy.
Tommy was a known as an actor and professional NHRA driver in the 50s and 60s. Whom in my opinion was obsessed with Buick Nailhead V8s. He built several dragsters that featured the motor. Some even had multiple motors. His first dual Nailhead dragster broke the 9 second barrier in the late 50s, not to mention setting records in the 170 - 180 mph hour in the quarter mile. No surprise his prized hot rod had a Nailhead huh?
Now on to the show...
Take time to enjoy this movie. It might be a little cheezy, but I think it's worth a watch. My brother and I found this movie a few years ago with a bulk pack of classic car films called Born to be Wild - Four High Octane Movies
. I would high recommend this pack of movies even though the movies are public domain. Below is embeded from Youtube. Special thanks to AMPOP Films and Isotope Guerrilla Cult Theatre for posting many public domain films on the net!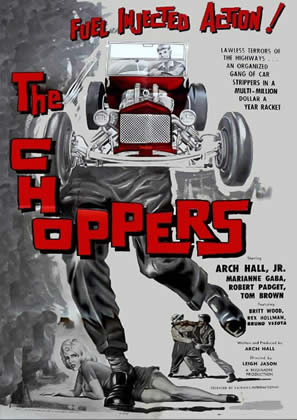 References:
Youtube
---
Categories: Free Ticket