Saturday, August 7th 2010
---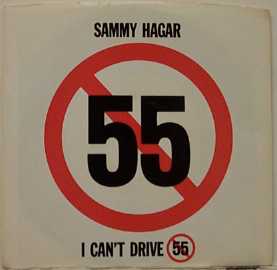 Can you believe our government wanted to tell us we could only drive 55 mph on the interstate? How could we get anywhere? Like Sammy Hagar, I can't drive 55! Nor do I think I could keep a Ferrari 512 BBi under 55. OnScreenCars.com is proud to present another great `80s car music video!
Inspiration
Sometimes inspiration comes from the strangest events. After a recent speeding ticket Sammy Hagar wrote this song about his speed limit frustrations. The incident happened while on a long drive from Albany, New York to Lake Placid. Sammy was on his way to meet up with his family at their cabin. He was caught in a speed trap. The cop ticketed him for doing 62 in a 55. As his took the ticket, Sammy looked at the cop and said "I can't drive 55." Viola the hit was born.
The Video
The video was shot to promote Sammy Hagar's album VOA (Voice of America). The video shows Sammy making some runs around the track in a Ferrari 512 BBi before meeting up with his real life mechanic, Claudio Zampolli. He then hits traffic on a busy road. As the song says "...too much traffic and I can't pass..." Classic! Sammy's band is picked up and thrown in jail and spends the rest of the video getting out.
The Car
The Ferrari BB (aka Berlinetta Boxer) was mid-engine car platform built by the company between 1973 and 1984. The horse in the video is one of 1,007 Ferrari 512 BBi built between 1981 and 1984. The 512 BBi is an improved version of the original 512 BB. The differences are the fog lamps, fuel injection system (hence the "i" in the name) and special tires from Michelin (TRX metric). 512 BBi is powered by a flat-12 engine that produces over 350 horsepower. Combined with a low weight configuration and design the BBi runs 0 - 60 in 5.4 seconds. To say 55 mph comes quick is an understatement.
Final Thoughts
The song may be timeless. But the clothing Sammy wears in the video may not be. I know I wouldn't be caught dead walking around looking like that. Oh well. It was the '80s. You can't say much. As for the car action, I give it a 10 outta 10. The song has been used in several films. Including Back to the Future II (alternative 1985 Biff's town center). You can also check out some of Sammy's others rides.Till next time. Stay out'a trouble. You can handle 65/70 mph a lot better than 55!
References: Wikipedia
---
Categories: 1981 Ferrari 512 BBi, Music Video