Monday, February 1st 2010
---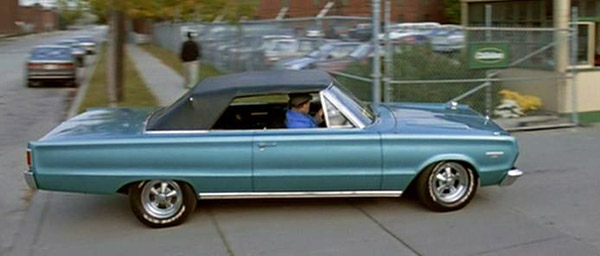 Holy Schnikes, On Screen Cars is featuring the Plymouth Belvedere GTX from Tommy Boy! We could only hope that Chris Farley would have reacted that way to this post. We'll do our best to honor his memory. But let's talk about the car! If you've seen the movie Tommy Boy, you would agree that it deserves mention on this site. The two main characters are seen in the car through out most of the film. For the benefit of those who have not seen the film, I will offer a short spoiler-free summary.
Movie Summary
Tommy Callahan Jr. (played by Chris Farley) has just finished college and returns home to Ohio to work at his father's automotive parts manufacturing plant, Callahan Auto. Shortly after Tommy returns home his dad Tom Sr. gives some news that he will be getting re-married to a younger lady (who happens to be a gold digger). The wedding takes place with tragedy striking as Big Tom Callahan Sr. dies during the reception. The company is in jeopardy and Tommy Boy decides to hit the road with his buddy Richard (David Spade) in the GTX to see if they can save the company from going under. That's about the extent I can go without spoiling the movie.
Don't forget there's more.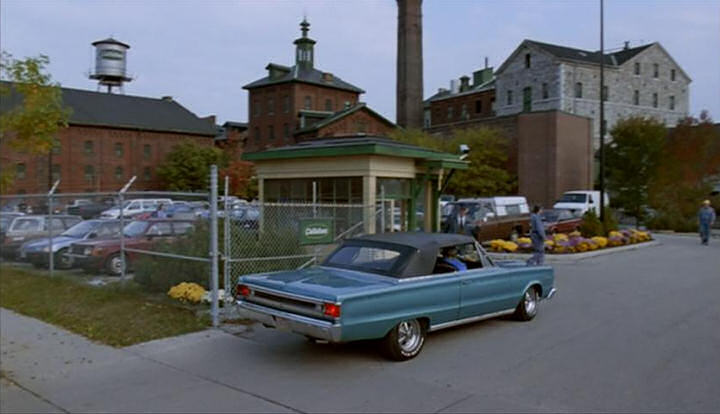 Looking for the movie? You can find it in our store!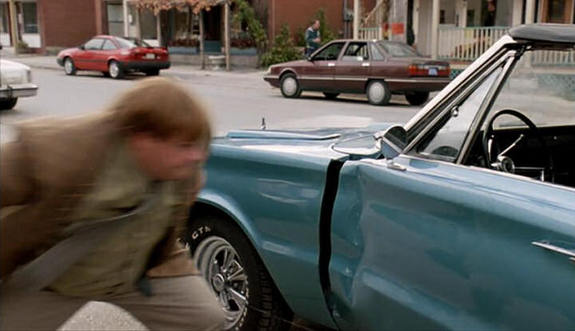 This is probably the last scene where the Cragar SS
wheels are still looking good. In this scene Tommy was trying to get the drivers door shut after bending it backwards.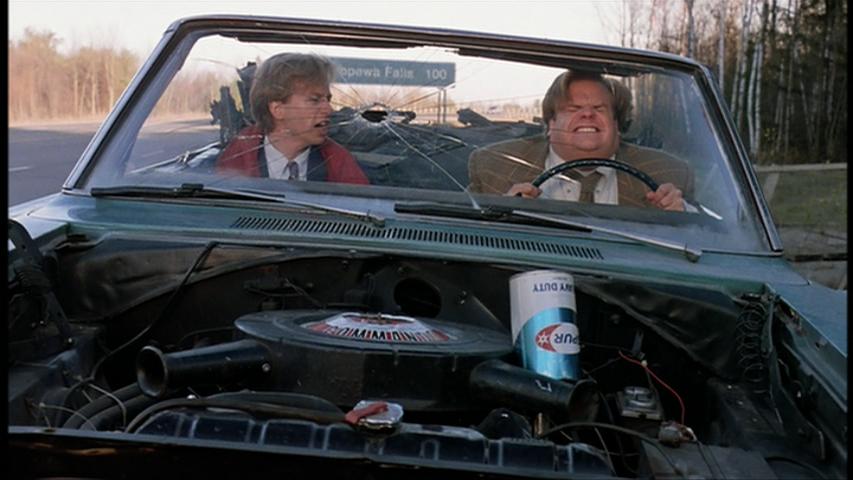 Early in the movie, Richard says "I dropped in a 440 Magnum with a six-pack." I hate to burst Richard's bubble, but in the clip above you can that the engine has an air-cleaner for a single four barrel, 440 Commando. After looking at a real 440 Six Pack breather you can see the difference. The engine is also a "Commando" and not a "Magnum." Keep in mind that these cars came stock with either a 440 Super Commando or optional 426 Hemi. It's not completely Hollywood's fault. It's possible that multiple cars were used. The un-damaged version of the car could have a non-stock 440 Magnum with a Six Pack.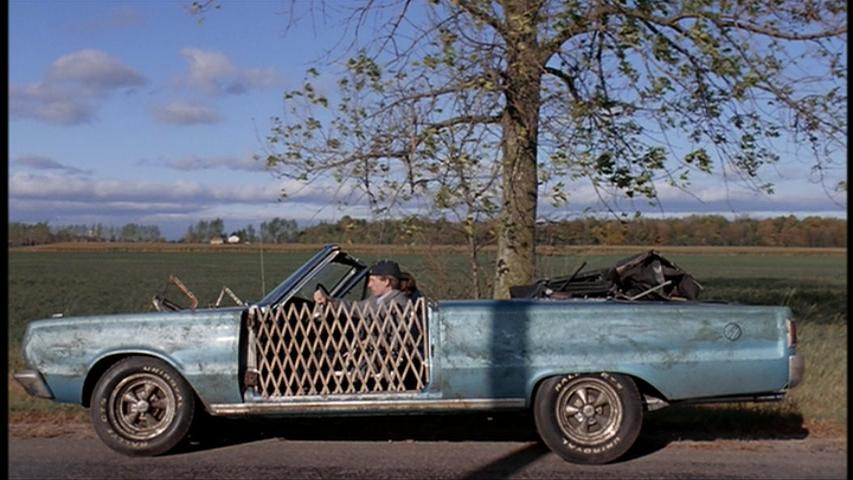 The missing door was replaced with a child safety gate, like the one seen
here
.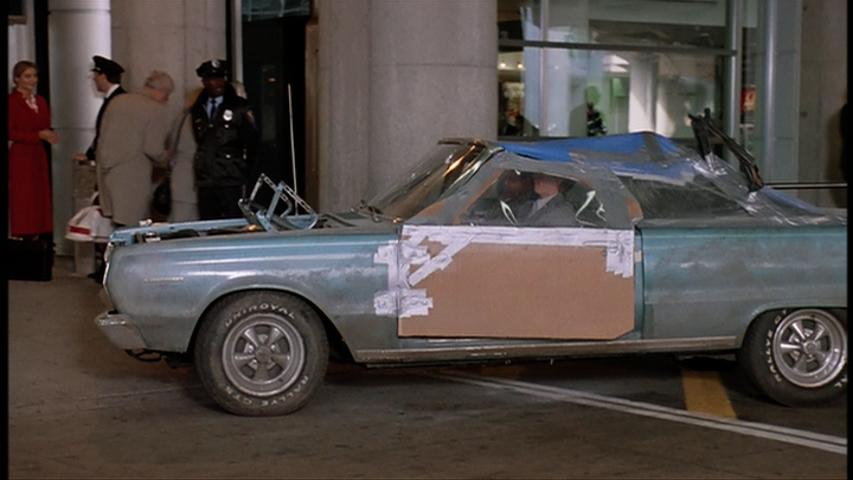 The door was later replaced by a piece of card board. You can also see that the convertible top has been replaced with a blue tarp.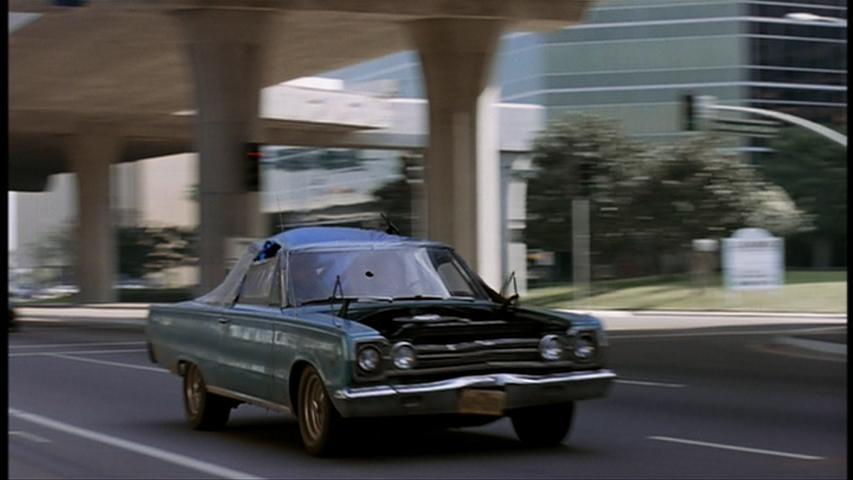 That over pass reminds of the Blues Brothers.
Final Thoughts
Tommy Boy is one of the funniest Chris Farley movies of all time. Farley and Spade always come through in every film they're in together. Far as the car factor goes, I'd have to say it's a ten. It's not popular as a car movie. But I think it diffidently qualifies as one. One last interesting fact before we sign off. This isn't the last movie David Spade drives a 1967 Plymouth GTX. Mater of fact, Spade drives one later in Joe Dirt. Don't worry, On Screen Cars will be bringing that car movie as well! See ya next time.
Reference: IMDB, YouTube (Trailer), Wikipedia (GTX)
---
Categories: 1967 Plymouth GTX, Chris Farley, David Spade, Tommy Boy