Thursday, February 25th 2010
---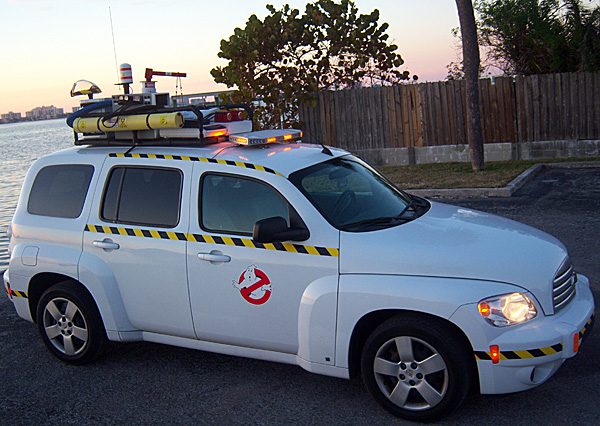 OnScreenCars.com is proud to present our newest segment on our blog "Fan Created Rides." In commemoration of this event we're presenting the ECTO-1X. This custom 2008 Chevrolet HHR was modeled after the 1959 Cadillac Ambulance featured in the Ghostbusters movies. Jason Rawley of Fireblade Comics came up with the concept after seeing the HHR for the first time. He had intentions of designing a concept based on the PT Cruiser, but he quickly decided that the HHR was much better suited as a platform for the ECTO-1X. Jason also had help from his fellow Tampa Bay Ghostbusters group members. After months of planning and design, him and his crew built/constructed the modification.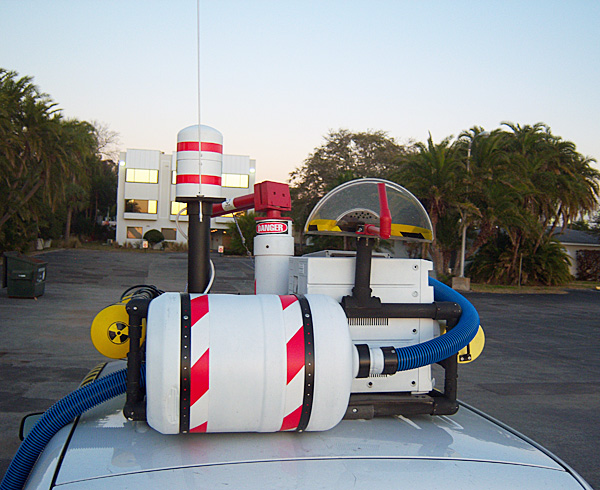 The Rack
The modification includes a rack (much like the one on the original ECTOs). The rack is constructed out of PVC pipe mounted on a plastic board. It appears to be removable and very durable. Most of the contents of the rack are pieces of recycled office and home entertainment equipment, aka Ghostbusting Gear. Jason has included the key components of good Ghostbusting, a sniffer/binocs unit, a radome, directional antenna, etc. Note this stuff is very technical and are highly specialized pieces of equipment. Alright, all jokes aside. The light bar across the top is a great choice. He notes that it's held on by magnets, plugs into the cigarette lighter and has 30 different flash patterns. The light bar flashes amber, so he doesn't have to worry about getting in trouble with local law enforcement.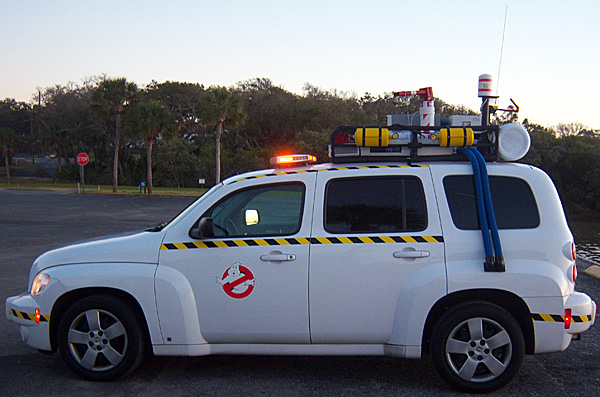 Graphics and Placement
Jason and his team did a great job with the graphics and placement. He spent months designing the layout and placement of all the graphics. In the first version of the design, you can see the caution strips running along side the bottom near the rocker panels. Later he revised design by moving the middle set of strips to the top. The revised version also has little reflectors on the bumper uprights as well. Of course to make it official, Jason put the famous "NO-GHOST" logo on the front doors and rear hatch.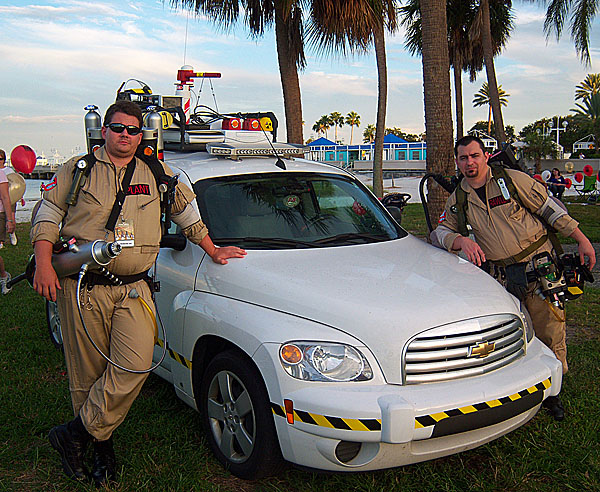 Final Thoughts
I would love to own something like this. I think it's completely retro and new. Thumbs up to Jason and the team at Fireblade Comics and Tampa Bay Ghostbusters. Hope to see more from you guys in the future. May you inspire a whole new generation of Ghostbusters fans where ever you go! I think it would be really cool to see more modern retros of old tv and movie cars. This design is very clean and slick! This is the first of many Fan Created Rides here at OnScreenCars.com If you've got a Fan Created Ride pop over to our forums, register and tell us all about it! You're car might be the next to appear on our blog at OnScreenCars.com! See ya next time!
Reference: Fireblade Comics, Tampa Bay Ghostbusters
---
Categories: Fan Created Rides, Ghostbusters