Sunday, November 25th 2012
---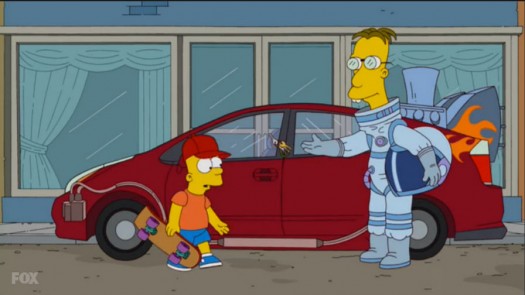 Let's talk about Treehouse of Horror XXIII after Thanksgiving? Yes. I know this is old news. Halloween has long been over. But like Treehouse of Horror this article will not get posted on Halloween! So what's the big deal? Well. How about the fact The Simpsons writers treated their fans to a Back to the Future Parody? Sure ok. That's worth talking about.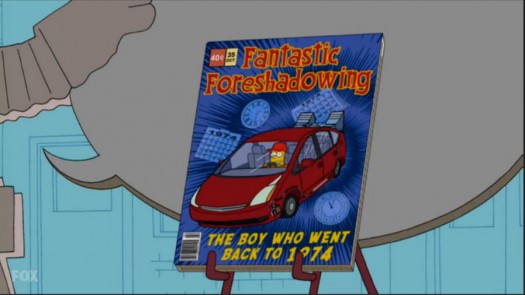 It all started with a book. A book with some heavy foreshadowing! Great Scott! Is that a Prius Time Machine? Really Matt Groening? Oh well. I think it's cute. But if you think about it. What modern day vehicle would you have used? The Prius does have a more 80's box shape too it. I guess Doc Brown would have thought it was neat at least. I do think he wouldn't have said " If you're gonna build a time machine into a car, why not do it with some style?."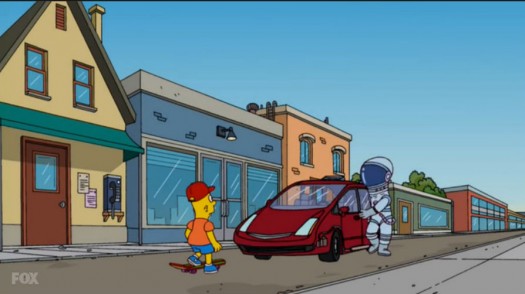 Let's just throw in some science-fictional reasoning in here. "Sure hmm. The hybird setup can generate the 1.21 jigga-watts of electricity needed to make time travel possible..." Ah that'a work. But can a Prius do 88 mph? Ah it's a parody who cares. lol. Anyways the story goes on to tell how Bart messes up the timeline and ends up with all these Homers from other timelines. I thought it was beautifully done. There are some great references in there. I won't spoil it. See ya next time! Remember the future is what you make it. If you do invent time travel. Please don't use a Prius!
---
Categories: Back to the Future, The Simpsons