Sunday, March 6th 2011
---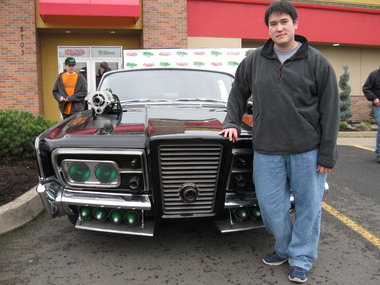 Image Source
This past week the grand prize winner of Carl's Jr. Green Hornet Sweepstakes was announced. Jonathon Hanington of Tualatin Oregon is now the proud owner of a 1965 Chrysler Imperial used in the film's making. According to an article on Oregonlive.com, Jonathon wasn't even hoping to win. He just picked up the cup he received with his Double Western Burger and entered the code on the side. Talk about luck! But hey at least that cup didn't end up unclaimed in the bottom of a landfill somewhere.

The article went on to say that Jonathon is a 27 year old full nursing student and has no plans to get rid of the non-street legal car. He was given the option of a similar car used in the film that is street legal. But hey why not choose the one valued at $275,000 and comes equipped with two fake guns huh? Talk about a car with some street appeal. Jonathon does have plans to lease the machine out to dealerships and auto shows.
In the video above you can see and hear him crank up that Chevrolet Big Block engine. Yea that's right this 'Black Beauty' is powered by Chevy. If you've read our previous feature on the cars used in the film you would know all about it. I'll let ya browse on over there. Till next time keep your hood mounted guns packed away and those wheels safely roll'n.
---
Categories: Green Hornet, Sweepstakes, Videos
Tags: black, chevrolet, chrysler, sweepstakes-2