Wednesday, March 3rd 2010
---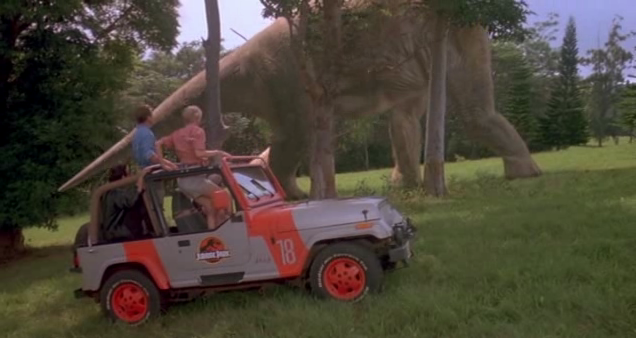 If you had dinosaur ranch on a remote island what vehicle would you use to get around? The Jeep Wrangler was Universal's answer as to the vehicle of choice for Jurassic Park's staff transportation. You know, the Jeep is perfect for getting up and down through terrain, transporting stolen embryos and running from dinosaurs. At least that was the case for the Wranglers in the film.
Base Jeep
The base vehicle for Jurassic Park Jeeps were 1992 Jeep Wranglers (YJ). The Jeeps were the "Sahara" trim level which included a few exterior extras such as alloyed wheels, colored fender flares, step board and front bumper mounted fog lamps. Interior options were special trail-cloth seats and removable doors with pockets. All 1992 Saharas came with the 4.0 liter 6 cylinder standard.* All the Jeeps used in the film appear to have manual transmissions. However automatic transmissions magically appear from time to time (kinda like how the General Lee switches back and forth through the Dukes of Hazzard series).*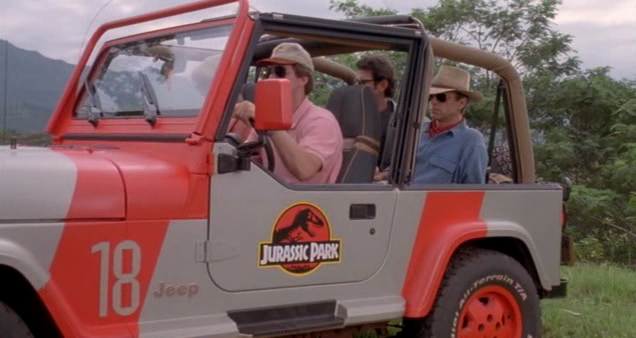 Jeep 18
Jurassic Park Jeep
What makes the JP Jeeps special? Well let's start with the paint scheme and graphics. The paint scheme consists of a Sand Beige Poly background with two red diagonal stripes through the body.* Each Jeep is numbered on hood, on the side and on front/back license plates.* There is also a id tag hanging from the rear-view mirror. The park logo is on the doors. The windshield frame is red with light bar hoop on top. However from my research only Jeep number 12 features lights on the light bar (maybe removable?). Don't shoot me down with hate mail if I'm wrong. The rear tail lights lights have additional amber lights on the top. The wheels are alloy, however they're painted red to match the stripes. All of the JP Jeeps are equip with winches and ride on BFGoodrich All-Terrain T/A tires.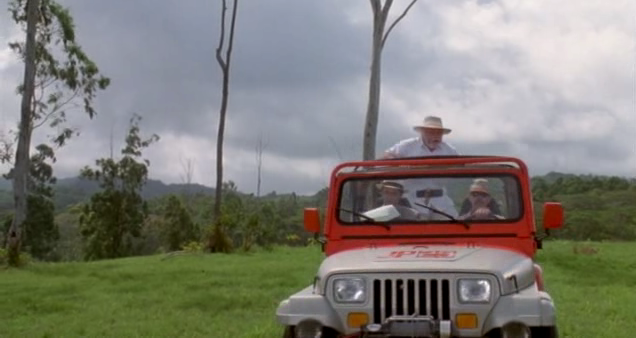 Jeep 29: Very little screen time for this Jeep.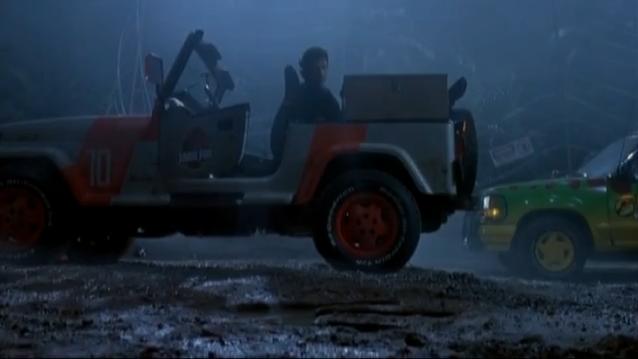 Jeep 10: Note the missing top. Used in the scene where they escape from the T-Rex. Later used to escape to the chopper.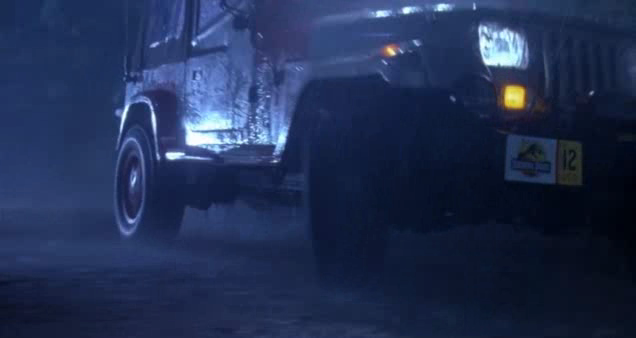 Jeep 12: Used to by Dennis Nedry in attempt to escape the ranch with stolen embryos.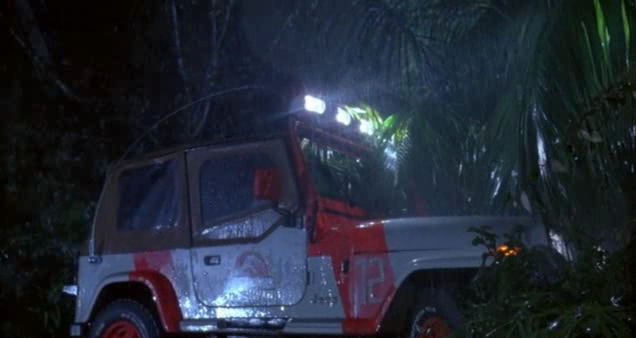 Jeep 12: Can Dennis not drive? Note the Lightbar.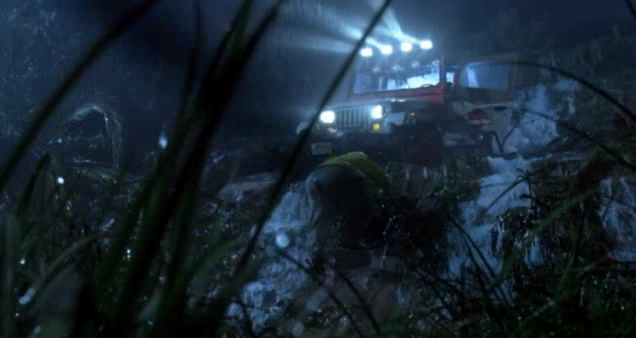 Jeep 12: Final scene for Jeep 12, Dennis is killed by a Dilophosaurus.
Our Favorite Scene From The Movie:
Final Thoughts
Above is a clip from our favorite scene from the movie. In this scene the visitors are being chased by the a T-Rex. For comic relief the camera pans to the side rear view mirror. On the mirror you can see a warning label that says "Objects In Mirror Are Closer Than They Appear." The T-Rex in the mirror is looking a little too close for comfort. I still crack up when I see this scene. The Jurassic Park Jeeps are pretty neat. I think it would be a fairly easy movie car to clone. However it may not be one of the easier base vehicles to find. But they're around. If you're interested in creating one of your own, the guys at
JurassicParkJeep.com
forums maybe able to help ya out. It looks like a great community. Till next time, drive safe and watch out for dinos! Don't forget to register and chat with us in the
forums
! * Updated: 03/05/2010 with some great info from the guys at
JurassicParkJeep.com
Reference:
IMDB
,
Wikipedia
(Jeep Wranglers),
IMCDB
(Internet Movie Car Database),
JurassicParkJeep.com
---
Category: Jurassic Park (1), 1992 Jeep Wrangler (1)