Monday, November 26th 2012
---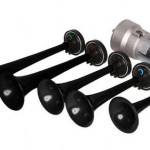 Got a Dukes of Hazzard fan on your list?
FIAMM 66053 Dixie Land - 5 Trumpets
might just be the thing. A trumpet array complete with air compressor to blast out those famous 12 notes of Dixie. One step closer to being the Dukes! This kit includes everything you need far as hardware. However from the comments on Amazon. Additional materials such as extra wire and tubing may be required. Not all cars or applications would fit the specs of the kit. Several of the commenters say this is one of the best trumpet kids available on the market. Comments on other products I looked at claim failure within in weeks. One common problem I see is the air compressor doesn't do well with cold weather. Might be a good idea to mount your compressor in such a way that it's removable. Disclaimer: I would imagine that this horn may not be legal in all states. Might be a good idea to check with your local authorities. Neighbors may not like it either. This kit does require some electrical knowledge to install. If you're not a pro, find someone who is. We don't wanta anyone to get hurt. On Screen Cars assumes no responsibility for recommending this product. However if you do end up purchasing this please send us your pictures or video! Might just end up on our "Fan Created Rides" list.
Let's paint it orange
!
---
Category: Dukes of Hazzard (10), Gift Ideas (6)