Saturday, August 28th 2010
---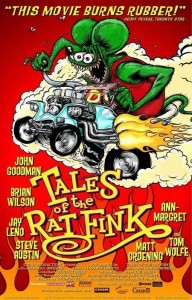 Ed 'Big Daddy' Roth is one of the greatest custom car designers of all time. He's responsible for countless inspired designs of not only custom cars, but timeless popular culture icons as well.
Tales of the Rat Fink
is an exciting documentary about the life and times of Ed 'Big Daddy' Roth. Thanks to Shout Factory! and YouTube. We're able to bring you the full length feature embedded into this post. Pull up a chair and learn about the man behind Rat Fink. Note this video is not property of OnScreenCars.com. We take no credit. We simply want you to enjoy it as much as we did. As Ed Roth once said, "Keep the rubber side down and the shinny side up." Be sure to keep your eye out for incredible OnScreenCars! See ya next time.
---
Category: Movies (10), Ed Roth (1)
Tags: youtube, movie, red, rat, fink, roth, documentary, film