Sunday, October 3rd 2010
---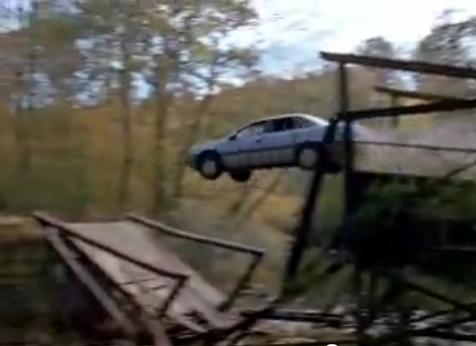 Pretty much every college student has taken a road trip some where. I was guilty of taking a few myself. But I can't say I jumped a car over a bridge like the guys in the movie
Road Trip
. A movie about four guys on a quest to drive half away across the country to prevent one of their girlfriends from seeing a explicit video tape. Along the way they're dealt a series of wild challenges and obstacles. The crew talk one of their nerdy friends, Kyle Edwards into borrowing their car (a 1991 Ford Taurus) for the 1800 mile trip from Ithaca, New York to Austin, Texas.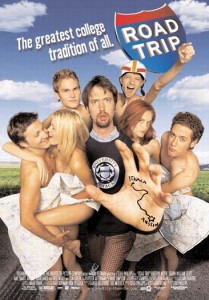 Things go wrong fairly early in the journey. They start off taking shortcuts that lead them to a bridge that's out of commission. Faced with the choice of either turning back and losing valuable time or going
Dukes of Hazard
style over the short gap in the bridge. As you can imagine the group chooses the later. Working out the physics of the car jump they predict they can clear the gap by approaching the bridge at 60 miles an hour. Nervous car owner Kyle reluctantly gets climbs into the backseat and puts on a crash helmet. They back the car up and take off down the dirt road leading up to the bridge. They all brace for impact and the car hits the bridge. Like pure movie magic they clear the bridge and come to a hard landing. The grill and front bumper shatters on contact. They're all celebrating until all four wheels fall off and the air bag deploys. Thinking they've met the worst of the incident the car bursts into flame destroying the car and their stuff. Awesome! Of course now they've gotta figure out what to do next. But we'll let that be for now. Don't wanta ruin the story for ya. But what about some of serious goofs we're seeing here? Could a 1991 Ford Taurus really jump a bridge? I'm sure the
SHO package
would help drastically! Well I guess you can jump anything that far with the right kinda power and if you hit it right. I did a little bit of research and I found a interesting article where someone talks about the
physics
behind the jump. Pretty interesting stuff. But the goof that stuck out the most to me was the misrepresentation of the actual weight of the car.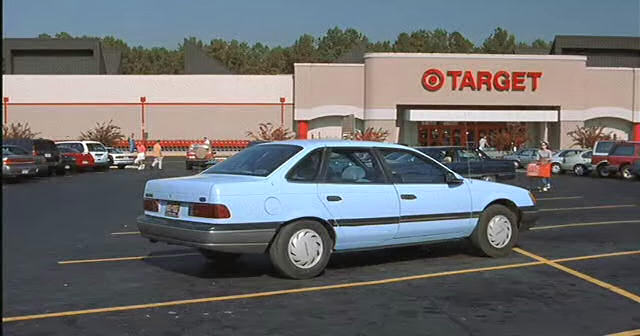 A 1991 Ford Taurus curb weight is roughly
3100 pounds
. Sorry guys 1500 pounds is more like a sport car. Another site notes that the
front wheels lift up unnaturally
during the jump. I haven't been able to find any technical information about the jump yet. But I'm fairly sure this feat was pure movie magic. But none the less if it wasn't, I wouldn't be surprised if the car didn't end up like the one in the movie. But I felt this jump is worth mention. Road Trip is and always will be one of my favorite college movies. Till next time, don't go sending out video tapes that you wouldn't want anyone else seeing!
---
Category: 1991 Ford Taurus (1), Road Trip (1)