Monday, February 15th 2010
---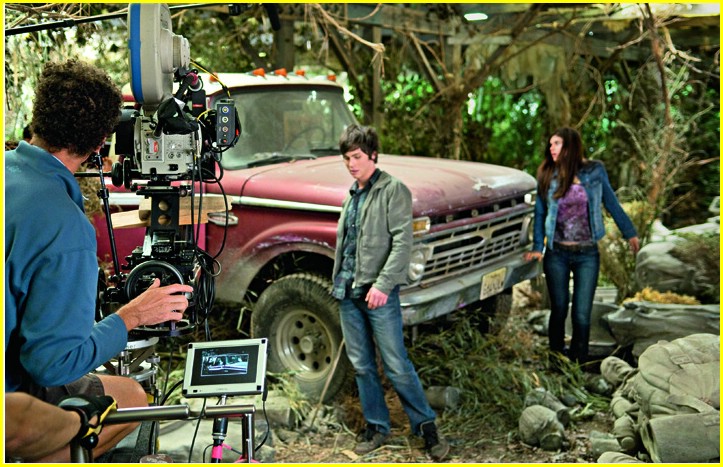 Source:
PercyJackson.org
This weekend teen action movie Percy Jackson & The Olympians: The Lightning Thief debuted. My wife and I, plus some friends went and saw it. It's a must see if you're into Greek Mythology or a fan of the book series. There was a lot of sword battles and action. Not to mention a fair amount of On Screen Cars! Today I wanted to share one of the car findings from the film. Be forewarned! The text below contains some spoilers for those who have not seen the movie! Don't say I didn't warn ya!
Spoiler Alert!
During the movie the main character, Percy Jackson and friends travel across country to collect items to aid them in their quest. The team uses different vehicles along the way. One of them being a red and white, 1966 Ford F100 Pickup Truck. The truck was used at first to help take out Medusa. Whom according to Greek Mythology has the ability to turn people to stone. The team later uses the truck to drive to Nashville, then Las Vegas. I don't want to give away too many details.

Source:
TheMovieInsider.com
Again the truck is a 1966 Ford F100. Ford produced this body style between 1961 and 1966. This era is the 4th Generation of the Ford F-Series Pickup. The front grill designs vary from year to year. The unique 1966 grill makes it really easy to determine the year of the truck. Not to mention the Twin I-Beam emblem logo as well. The Twin I-Beam suspension was only available for this body style between 1965 and 1966. The wheels are after-market. It has the stance of a 4x4 truck. But I don't see any hub locks. The two tone, red and white combination looks great on these trucks.
Final Thoughts
If you follow the story line the truck was driven at least a 1000 miles across the country by non-experienced drivers without any problems. I'm not saying that isn't possible. But with a vehicle that old and a trip that long without a hitch is a merit in itself. When you're using well maintained equipment, I guess anything is possible. Till Next time! Keep on trucking and watch out for Greek Myths! We'll keep bringing more On Screen Cars! Update: See one of the other cars from Percy Jackson, a
Maserati 4200 GT
! Reference:
IMDB
,
Wikipedia
(Ford F-Series),
TheMovieInsider.com
,
PercyJackson.org
---
Category: Percy Jackson (2), 1966 Ford F100 Truck (1)