Friday, September 13th 2013
---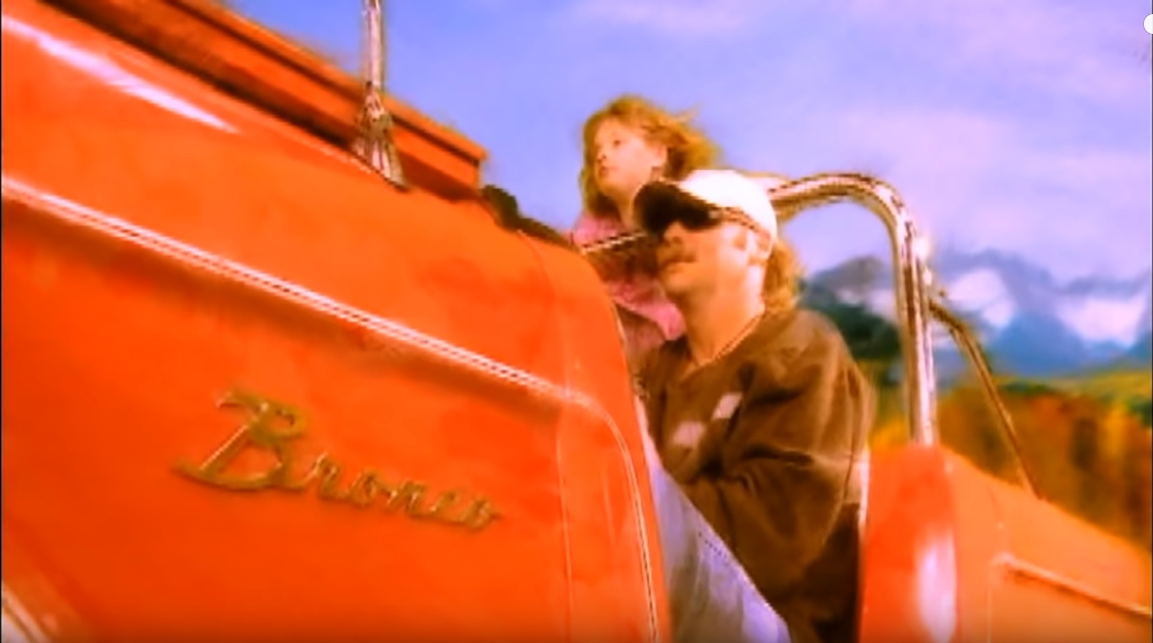 It's been a while since we've posted a music video. I thought I would share one of my favorite country videos of all time. Drive by Alan Jackson talks about sharing memories of growing up. I believe Alan wrote this song in dedication for this father Gene who passed way in 2000 and his three daughters. But why are we talking about this on On Screen Cars? Well there are some on screen cars of course! Mid-way through the video you'll see Alan talk about driving his dad's 1964 Ford F-100.
In the song Alan describes the pickup as being a handy-down from his uncle. As the story goes. Alan's uncle bought it new in 1964. It's unclear when his dad acquired the truck. But never the less it needed some work (burnt valves, dent in the door). Just as in the song the video shows a young boy and his dad driving down a dirt road called Thigpen Rd(Google Maps). The song talks about it being a three-speed on a column model. Which wasn't uncommon for the time. From my research I would say the truck had a straight six engine (223 or 262). The 292 V8 was avaliable for 64' but I couldn't imagine the 3-speed being super popular with a V8.
"Just an old half ton short bed ford
My Uncle bought new in 64
Daddy got it right cause the engine was smoking
A couple of burnt valves and he had it going
He'd let me drive her when we haul off a load
Down a dirt strip where we'd dump trash off of Thigpen Road
I'd sit up in the seat and stretch my feet out to the pedels
Smiling like a hero who just received his medal.."
Gotta love the last line of that verse! Pretty much the way I felt the first time my dad let me drive is 1987 Ford Bronco. Speaking of Broncos. There's also a 1977 Ford Bronco in this video. The song makes reference to him and his daughters riding around in a "Jeep." I believe the term was meant to be used loosely. Jeep of course is a brand name. But like anything else the name gets thrown around for everything with a removeable top and four-wheel drive.
I believe this first-generation Bronco is part of Allen Jackson's personal collection. Which wouldn't surprise me. Allen Jackson was a former mechanic and long-time gearhead. Just another reason to like Allen Jackson! If u notice in the video he's got it decked out pretty good. The top is off, roll bar installed. The doors are off. The windshield folded down. Just all kinds of win! Well that's all for now. Watch the video and let us know what you think in the comments! We'll be back with more On Screen Cars! Sorry for the absence!
---
Categories: Music Video