Monday, March 5th 2012
---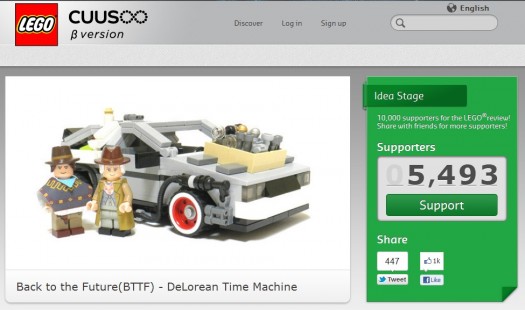 Just in from Masashi Togami and TEAM BTTF: We've received the following email from LEGO congratulating us on 5,000 supporters!
"Dear m.togami, Congratulations on passing this milestone of 5,000 supporters on LEGO CUUSOO for the Back to the Future DeLorean Time Machine! You're halfway there! Over the coming weeks, veteran designer Steen Sig Andersen, the same designer who built the final Shinkai 6500 and LEGO Minecraft Micro World models, will investigate your DeLorean model and build our own concept. We will post the results here with our comments once that is complete. Best wishes as you continue on your journey to achieving 10,000 supporters on LEGO CUUSOO. The LEGO CUUSOO Team"
On Screen Cars fans we're getting close to reaching the goal of gaining an offical BTTF LEGO set. Not to mention the ultimate goal of helping the The Michael J. Fox Foundation for Parkinson's Research. The group wishes to denote part of the proceeds from each set to the foundation. If you haven't voted your support for the set please do so at the
LEGO: CUUSOO
site. It just takes a few minutes of your time and doesn't cost a thing.
---
Category: Back to the Future (15), Art (12)
Tags: lego